Aveo Is Not Beautiful
Wednesday, July 15, 2009 at 4:42 am
I just got an email about General Motors announcing their restructuring. Then I went on a Wikipedia run to look at what's new. Then, I got bored and clicked on Daewoo, which they have a major stake in (> 50%). Apparently Daewoo is South Korean - I had no idea. Yes, when I visit Wikipedia, I will read about cotton and werewolves in the same sitting.
So then I read that a bunch of Daewoo models are sold in the US under the Chevrolet name. The Chevrolet Aveo is actually a Daewoo Kalos. I had to drive one of those when our car got rear-ended. They are not pretty. They don't even feel safe. When we went under a bridge, the car shook from the "wind tunnel" effect!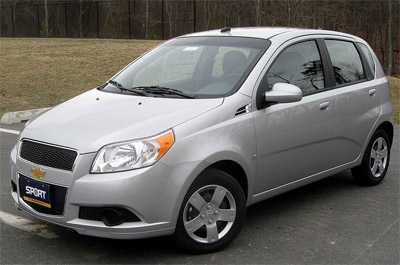 The ultimate irony is what I read when I looked at the article about the Daewoo Kalos. They chose the name Kalos, because the Greek word καλóς means beautiful. I dare a commenter to say that they like the way the Aveo looks.