My Blog
Friday, May 15, 2015 at 2:08 pm
For those who don't know HTML, every picture can have an "ALT" attribute that describes the contents of the image to sight impaired people using a screen reader. Since screen readers are linear, any blind user would be forced to listen to a really long description for a logo that sighted people would quickly glance past.
And then there's this confirmation email I received today from the US Postal Service.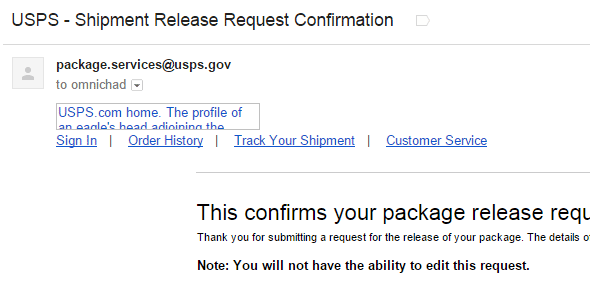 See the box above? The full ALT text reads: "USPS.com home. The profile of an eagle's head adjoining the words United States Postal Service are the two elements that are combined to form the corporate signature"
And here's what that ALT text is describing:

And sighted people might realize that this logo doesn't even have the words "United States Postal Service"
Thursday, September 26, 2013 at 3:02 pm
Please tell me that a mostly abandoned blog still counts. Now that I'm launching a redesigned web site, I'm looking back at all things old. Back in 2003, I created a blog I affectionately called "Blogdor." The days when Homestar Runner was bigger than Youtube.

My blog back then ran on top of a platform called "b2." An offshoot of that platform eventually went on to be called WordPress.
This wasn't my first web site at all. I've had my own online web presence going back to 1998. I got started with HTML and Internet Explorer 2.0 before ever getting online at home. I remember the early days of Internet at home - leaving the dial-up connection on overnight to download Netscape 4 on a 14.4k modem.
Can't imagine the Internet another 10 years from now. Just 10 years ago, there was no such thing as Youtube, Facebook, or Twitter.
Friday, January 11, 2013 at 3:38 am
If I ever had two pets at the same time, they would be two weiner dogs, named Pepperoni and Sausage. Oh sure, it would be a cute name and all, but the real reason would be at their death. I would choose to memorialize them just so I can answer the question "What do you want on your tombstone?" with Pepperoni and Sausage.
Wednesday, November 14, 2012 at 9:23 pm
I love a good meatloaf. I made meatloaf just last night. Here's how it went together.
We bought some lovely, very tomato-ey BBQ sauce at the Spoon River Scenic Drive. No idea who makes it, but it's not available in stores.
Here's what went in:
One pound each of ground beef and ground pork
Two Eggs
1 Red Bell Pepper, diced
1/2 Green Bell Pepper, diced
1/2 onion, diced
Black pepper
Loads of Lea & Perrins Worcestershire
Panko, italian bread crumbs, and crushed saltines (had a lot of dry breads to rid myself of).
A small amount of a very tomatoey BBQ sauce (not store-bought)
I topped it with a glaze made of that same BBQ sauce, loads of ketchup, honey, and worcestershire. I coated the meatloaf with the sauce and put it in the oven at 500 degrees for the first 10 minutes to dry on the sauce and brown the meat, then down to 375 for the next 45. After that, I put another layer of sauce and then some ketchup swirls, and back in the oven another 10 minutes.
Served with the rest of the sauce.
My only regret was not cutting the peppers/onions smaller, and/or sauteing them first. They made it too crumbly, and it was hard to cut. It was very good.
Yes, this post mostly exists because I haven't touched my blog in 2 years, 1 month. But I love meatloaf, too. P.S. I also chopped up a strip of bacon to go in with the meat.
Monday, September 20, 2010 at 5:06 am
My wife Rachel went yard sale shopping and found me a Nintendo (NES) for only $3. After some maintenance and cleaning, it looks as good as new and works just as well. What a great way to celebrate Mario's 25th birthday! It had a LOT of the original documentation. In fact, it had the original warranty form included. I wondered what the people at Nintendo would think if they received this.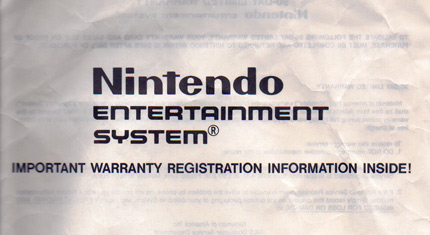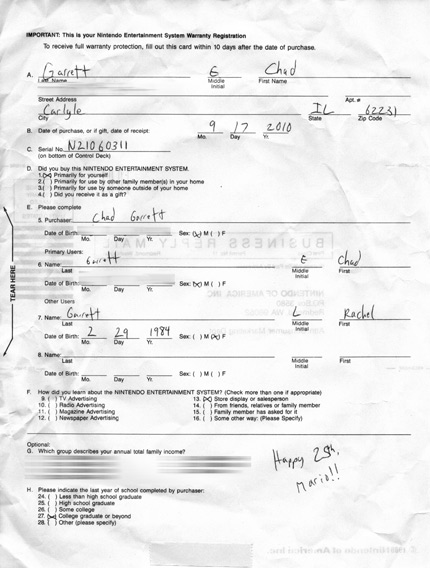 As you can see, I've filled it out and I'm dropping it in the mail tomorrow. Afraid their business reply mail permit has changed or expired so I'm putting postage on this one.
I wonder how many Club Nintendo coins I might earn for this purchase.
If anyone has an old NES Control Deck lying around, and it doesn't read cartridges - try the instructions I used to make mine as good as new. Well that, lots of Lysol cleaning wipes, and a Magic Eraser.